Now that you've decided to uplift your room's appearance with a barn door, you've probably researched the available material choices out there. One of the options you have is pine wood, a softwood type commonly used for this purpose. Before we dive into the ins and outs of pine barn doors, it is essential to first understand what barn doors are and what they bring to the table. So, in this read, you'll be learning everything you need to know about pine barn doors.
What are Barn Doors?
Barn doors fall into the category of sliding doors. Unlike their counterparts which are pocket doors, these do not slide into your wall's line. Instead, barn doors remain outside of the wall's margin. At the same time, barn doors offer the same purpose as pocket doors. They slide to cover the opening and save you space in your room. Barn doors are also usually made from wood, which is why they're more affordable than other sliding doors. These doors also have a relatively easier method of installation due to their inability to get into the wall's cavity.
Since barn doors are typically made from wood, they have an upper hand on durability and sturdiness. The frame they hang on to is robust and strong enough to keep the door on its track smoothly even years after use. However, they do require minimal maintenance occasionally to ensure smooth operation. Maintenance mainly includes lubricating the frame's bearings to allow the door to move freely. Most of the maintenance and installation can easily be handled by someone who has basic know-how of home repairs. Now, coming to the wood, barn doors come in a wide range of both hardwood and softwood types including pine, hardwood, cedar, oak, and more.
Pine Wood: Strength, Composition, Uses
Pine wood, as the name suggests, is derived from pine trees that fall into the category of softwood. Pine wood is considered to be the most widely preferred wood type for not just barn doors, but generally for all carpentry works ranging from flooring to furniture. The reason why pine wood is majorly ranked the highest is that it is one of the strongest softwoods we have on our planet. Not only that, but pine wood's wood grain gives your furniture a clean rustic finish, which is like the cherry on top of the cake.
As mentioned previously, pine wood brings serious competition of strength to the rest of the softwoods. It has a dense composition that allows it to outlast other types of softwood in longevity and durability. However, softwoods, at the end of the day, are still softwoods. This means that all of them are weaker than hardwoods. The competition between hardwoods and softwoods is not only based on strength, but weight plays a major role too. Pine wood brings you the best of both worlds with its lightweight and impressive strength.
Is Pine Wood Perfect for your Barn Door?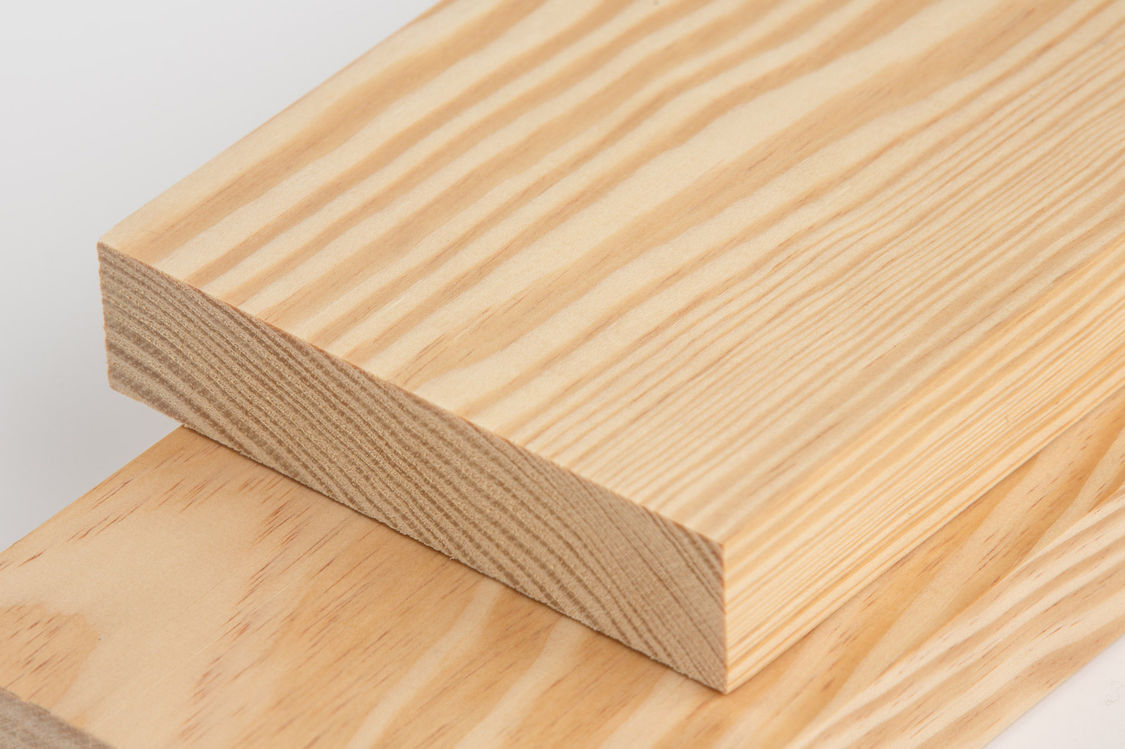 Now that we've discussed pine wood's features, it's time to address the main question. Is pine wood best for your barn door? Well, we'll let you decide this one after giving you a brief overview of pine's use in barn doors. Firstly, sliding doors in general require a strong but light wood type. You're hanging a giant piece of wood up on a frame. Not only will a heavy door make it a hassle in installation, but you'll also need a strong durable frame to keep it attached up there. So, a pine barn door will fill both your requirements of weight and strength.
In terms of durability, pine wood is a softwood after all. This means that it won't bring that stiffness and rigidness to the table that hardwood will. So, you shouldn't set your expectations too high because pines are more prone to damage. However, proper maintenance and occasional attention to the door's health can ensure a pine barn door will deliver a service of decades. This is of course, only achievable if you keep an eye out for moisture reeking into your precious pine barn door. Other than that, rest assured pine wood can deliver durability too, just not as much as a hardwood though.
Can You Install a Pine Barn Door Yourself?
As mentioned previously, barn doors generally have an upper hand over pocket doors due to their ease of installation. Unlike the latter, these do not require a bracket that slides the barn door in line with your wall's cavity, hence making the installation process relatively simpler. So, can you make it a fun DIY project or would you have to call a professional for pine barn door installation? Well, you can handle the procedure yourself if you're familiar with drilling holes into walls and putting up frames. Proper measurement and alignment are two things that you need to give special attention to. Other than that, the installation is a piece of cake.
Moreover, pine barn doors do not require a bottom track to slide on. A frame on the top is sufficient and if you hang the door above properly, it won't swing back and forth while you slide it. Once again, taking proper measurements is key here. Your door should be 2-3 inches wider than the gap. This way, even if your measurements go slightly wrong, the extra inches you took into account will compensate and the door won't leave any uncovered space. Lastly, you'll need some help in holding the door up while you mark your drilling holes. So, make sure you have some company!
Why You Should go for a Pine Barn Door
Here are some reasons why you should opt for a pine barn door:
·
Space-savers
One of the key benefits of a pine barn door, or a barn door in general, is that it saves you space. Especially if you're looking for double doors, you won't have to worry about moving a couch or anything in your room. These pine barn doors will slide sideways against your wall without bumping into anything else.
·
A complement to your interior design
We discussed earlier that pine wood offers a rustic look on your barn door. It can greatly enhance the overall appearance of your room. Honestly, other types of furniture would not bring more elegance than a softwood barn door sliding open.
·
Require minimal maintenance
Pine barn doors require little to no maintenance that allows them to live more than a decade. Though they're less durable than hardwood, they still bring a great deal of longevity in comparison with other softwoods.
·
Installation is easy
Here at barndoorsforsale, we include a complete hardware kit to make the installation process as simple and easy as it can be. You can make it a fun DIY project and call it a day. Installation is the last thing you need to worry about for pine barn doors.
Unfinished or Finished Pine Barn Door: Which one to go for?
Pine barn doors come in different sizes and themes, but should you go for an unfinished or a finished one? A finished pine barn door comes with a fine layer of paint on it, whereas an unfinished one comes in a plain light wooden color that can be painted later. We recommend the latter because painting it later on with a color of your choice would be better. Yes, you'll be taking in more work other than installation, but at the end of the day, your pine barn door will truly match and complement your room's color theme.
Where Does a Pine Barn Door fit Best?
Deciding which room would be optimal for your pine barn door shouldn't be a brainer. Pine barn doors fit best in rooms where you need to showcase their beauty, and this excludes the bedrooms. Living rooms and dining rooms are ideal to be picked as these rooms are generally more focused on taking interior design to the next level. Furthermore, barn doors are not the best at maintaining privacy, which gives you all the more reason to not have them in bedrooms.
Which Pine Barn Door Should You Go for?
Now the real question is, which pine barn door should you go for? We bring a wide range of barn doors of the highest quality for you to choose from. All of these come with complete installation kits and have standard American measurements to make things easier. You can check out our pine wood-based products here and see which fits your needs best. Lastly, don't forget that apine barn door needs a handle to keep it sliding, and we have those too! Browse the handles section on our website and see which one would be the cherry on top of the cake, or in this case, the handle on top of your pine barn door.
Conclusion
Pine barn doors have the potential to make your home beautiful and elegant without breaking the bank. Once you go for an unfinished piece, the color combination possibilities are pretty much endless. Feel free to explore your imagination and DIY skills by opting for a pine barn door. As for where to buy it from, we've already given you a website address for that too!